Quotation Manager
How to get Quotation?
STEP 1: Account Login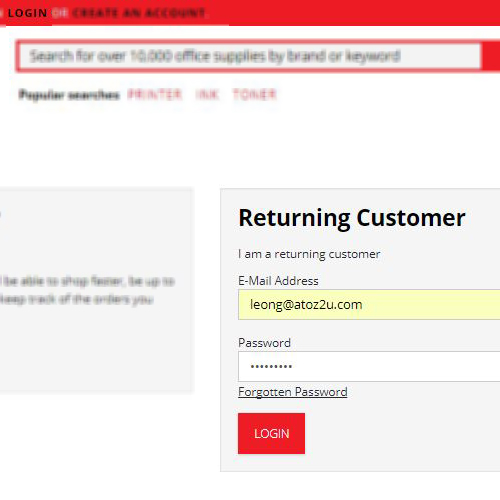 STEP 2 : Search for product
STEP 3 : Select Quantity and Add To Cart
STEP 4 : Click on the green pop-up "Success" message to access the shopping cart. If you missed the message, click on the "Trolley" icon on top right of the page and click "View Cart" to access it.
STEP 5 : In Shopping Cart, Click "GET QUOTATION".
STEP 6 : For first timer users, the necessary information have to be filled in order to generate a quotation. For future quotations, simply select the "Existing Address" option to get a quotation.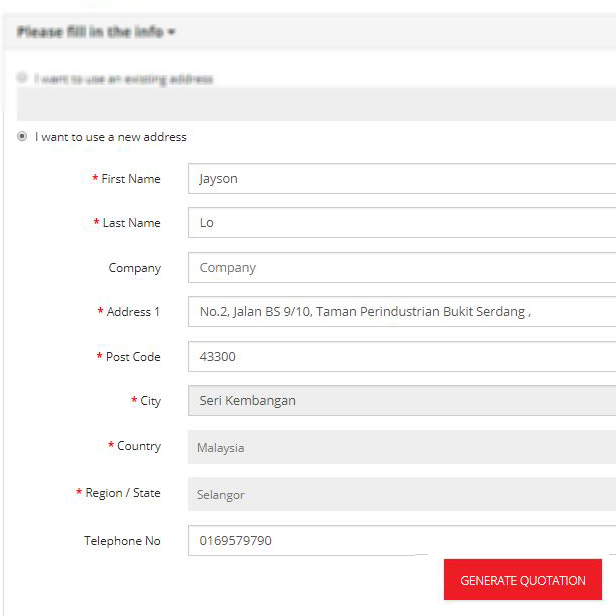 STEP 7 : After a quotation has been generated, a "Success" message will be shown and you can click on the "Account > Quotations" highlighted in red to view the Quotation or go to "MY ACCOUNT" top right of the page and select QUOTATION alternatively.


STEP 8: Action Features


View

Quotation

: After accessing, the Quotation can be printed out or you can checkout directly.


View Profomal

Invoice

: The Proformal Invoice can be viewed or printed out.


Upload

Attachment

: All payment proof are to be uploaded here for payment confirmation.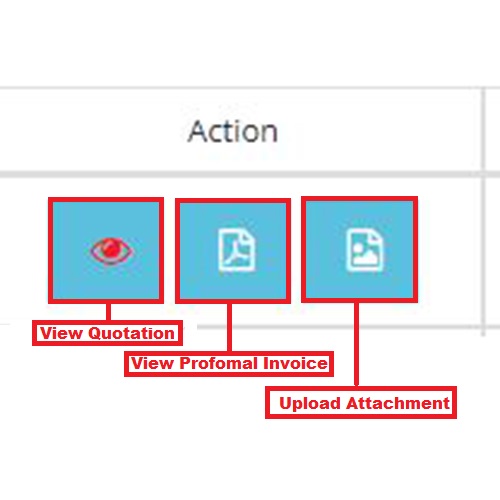 STEP 9 : Payment Status Update
1.

30 Days Validity

- All generated quotation(s) will have a validity of 30 days.


2. Attachment Pending For Approval
- All uploaded attachment will be subject to payment verification for up to 1 - 3 working days.

3. Payment

Verification
- A "Payment Verified" status will be reflected on the "quotation update" email upon successful payment verification.

4. Payment Completion
- Upon successful payment completion, a status update will be reflected on the "quotation update" email. At the same time, you will receive an order confirmation email.

5. Checkout using Ipay88 / Credit
- On the "View "Quotation" page,you may checkout using the available payment methods. Upon a successful checkout, you will receive a status update on the "quotation update" email and an order
confirmation email will be sent to you at the same time.

6. Expired Quotation
- Pending quotation after the 30 days validity will be deemed expired and no longer valid. Kindly generate a new quotation for the latest information and order processing.

7. Payment Reject
- Invalid/false payment proof will be rejected. Kindly re-upload the attachment containing a valid proof of payment.
Please send an email admin@atoz2u.com or call 1800-88-0007 if you facing any problem or inquiry.